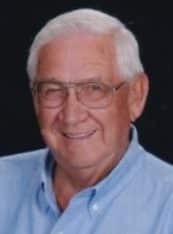 Mr. Eugene Schutt, age 86, of Alton, passed away on Friday, January 6, 2023, at the Sanford USD Medical Center in Sioux Falls.
There will be a memorial service on Monday, January 9, at 11:00am, at the First Reformed Church in Orange City with the Rev. Mark Haverdink officiating. A time of visitation with the family will be from 1:00pm until 2:30pm, at the church. The Oolman Funeral Home in Orange City is in charge of arrangements.
Memorials may be given to the Schutt Family for future designation.
You are invited to leave a message of condolence, print a memorial folder, view a tribute video, and participate in the service via live stream at www.oolman.com.
This entry was posted on Friday, January 6th, 2023 at 4:31 pm and is filed under Obituaries. You can follow any responses to this entry through the RSS 2.0 feed. Both comments and pings are currently closed.