September 21, 2021 - 9:42 am - Posted in
Sports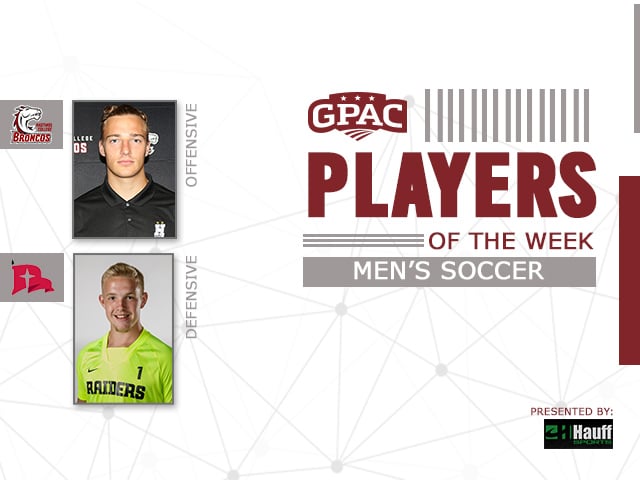 (Sioux City, Iowa) – The Great Plains Athletic Conference (GPAC) and Hauff Mid-America Sports are proud to announce the following Men's Soccer Players-of-the-Week for contests played September 13-19, 2021. Hauff Mid-America Sports is the presenting sponsor of the 2021-2022 GPAC Players-of-the-Week and Players and Coaches-of-the-Year awards program.
Men's Defense – Ezekiel Foltz, Northwestern College (Keeper)
Ezekiel Foltz of Northwestern is this week's GPAC/Hauff Mid-America Sports Men's Soccer Defensive Player-of-the-Week. Foltz, a junior, from Sioux Center, Iowa, guided the Raiders to a 1-0-1 record and started GPAC play with a 2-0 win over Briar Cliff on Saturday, both being shutouts. In the two matches, he notched 16 saves. On Saturday, against Briar Cliff, he had a save on a Charger penalty kick that kept the Chargers off the board and propelled the Raiders to the win.
This entry was posted on Tuesday, September 21st, 2021 at 9:42 am and is filed under Sports. You can follow any responses to this entry through the RSS 2.0 feed. Both comments and pings are currently closed.