August 2, 2021 - 3:44 pm - Posted in
News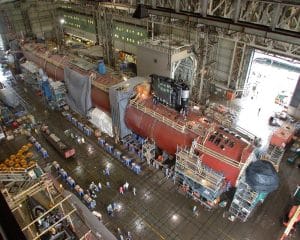 Statewide Iowa — When the US Navy submarine that'll be named after the state of Iowa sets sail for patrol duty in about two years, it will have an important distinction from all previous vessels in the fleet, according to Tom Hudson, executive director of the USS Iowa's commissioning committee.
Space is at a premium onboard a submarine, Hudson says, with practically every square inch serving a specific purpose. That's why it's so monumental for women to have their own space onboard the sub.
The submarine will have a crew of 120 enlisted personnel and 14 officers. Eventually, between 20 and 40-percent of the crew will be female, but Hudson says the premier crew will be more lopsided toward men with perhaps just ten-percent female.
The USS Iowa will be christened in Connecticut in the spring of 2022, but it likely won't be commissioned and begin patrol duties until the summer of 2023 — an event which Hudson hopes will take place in Los Angeles Harbor beside the previous USS Iowa, the retired battleship.
Photo courtesy of USS Iowa commissioning committee
This entry was posted on Monday, August 2nd, 2021 at 3:44 pm and is filed under News. You can follow any responses to this entry through the RSS 2.0 feed. Both comments and pings are currently closed.