September 28, 2021 - 9:50 am - Posted in
Sports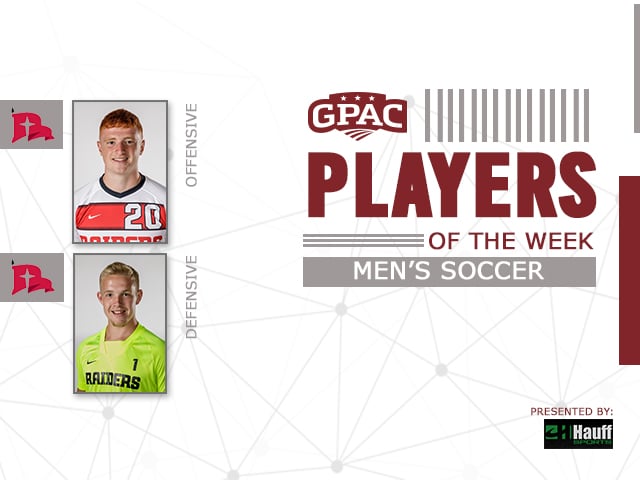 (Sioux City, Iowa) – The Great Plains Athletic Conference (GPAC) and Hauff Mid-America Sports are proud to announce the following Men's Soccer Players-of-the-Week for contests played September 20-26, 2021. Hauff Mid-America Sports is the presenting sponsor of the 2021-2022 GPAC Players-of-the-Week and Players and Coaches-of-the-Year awards program.
Men's Offense – James Bolger, Northwestern College (Midfield)
James Bolger of Northwestern College is this week's GPAC/Hauff Mid-America Sports Men's Soccer Offensive Player-of-the-Week. Bolger, a junior, from Boyle, Republic of Ireland, netted the game-winning goal against No. 22 Morningside with less than 10 seconds remaining in overtime. The win marked the first win for the Raiders over a nationally-ranked team at home since 2012, and helped the Raiders stay unbeaten in GPAC play. He tallied two shots in the two Raider victories this week.
Men's Defense – Ezekiel Foltz, Northwestern College (Keeper)
Ezekiel Foltz of Northwestern is this week's GPAC/Hauff Mid-America Sports Men's Soccer Defensive Player-of-the-Week. Foltz, a junior, from Sioux Center, Iowa, helped the Raiders start 3-0 in league play, the best start since 2018, as the Raiders downed No. 2 Morningside and Concordia last week. The win over the Mustangs marked the first win over a nationally-ranked opponent at home since 2012. He collected 11 more saves with a save percentage of .917. The shutout over the Bulldogs was his fifth of the season for Northwestern.